Oak Pointe Canton is all about knowing Jesus and making Him known. Our goal is to be a welcoming church where anyone would be comfortable. In addition, we strive to lovingly challenge one another toward growth in our relationships with one another and, most importantly, in our own individual relationships with God. We believe all of that can be done in a non-judgmental, caring, and fun environment. We would love the chance to get to meet you!
My wife MacKenzie and I grew up in metro Detroit and met while attending the student ministry at Oak Pointe Church in Novi. We then attended Michigan State and were deeply involved in campus ministry. During that time we enjoyed growth in our relationship and with God. By the time we finished school, we were married.
In 2008, I began work in the student ministry department at Oak Pointe Novi. Over the next 12 years, we worked with both middle school and high school students, while also studying at Moody Theological Seminary in Plymouth to finish my theological education. Then, in early 2019, God put it on our hearts to start a new church in Canton. We are so happy to be able to do this as an extension of the church we love!
We have four children: Isaiah (12), Charlotte (8), Camille (4), and Eliza (1). Our house is very active and often very loud. We love and treasure our family time, especially watching football & basketball – go Green! But we also enjoy a night out that includes music, theater, or just a good meal!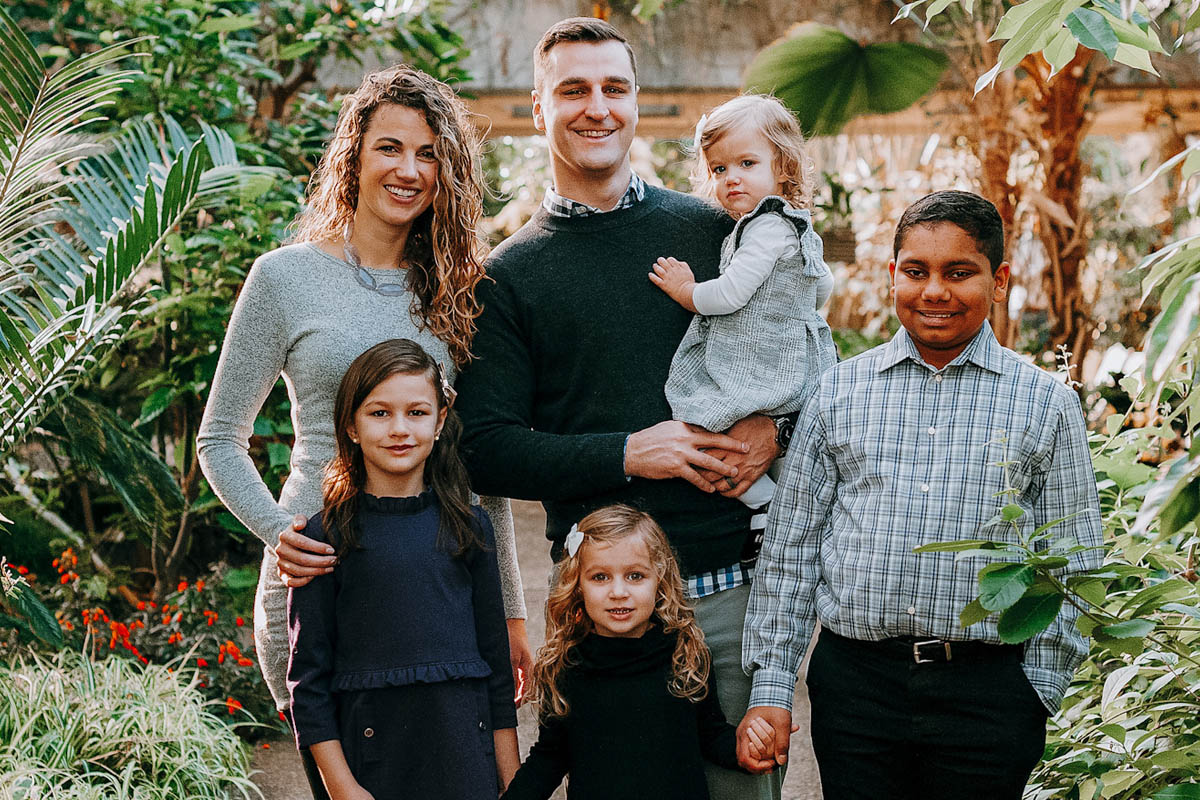 The vision of Oak Pointe Church is simple. Our desire is to be a place where anyone can find God, no matter where they are on their spiritual journey. We believe in the idea of "no shame, no same." There's no shame in where you've been, but we're passionate to see you grow. We also have a heart to be part of the larger Church in Metro Detroit. We want to plant new churches and partner with existing churches. We want to see a movement of people throughout this region who know Jesus and make Him known.
Our Values
In Matthew 28, Jesus simply tells his followers to "go and make disciples." It has become known as the Great Commission. Helping people navigate the pathway from being new believers to becoming fully committed followers of Jesus is the most important work of our church. To this end, Oak Pointe's values reflect eight areas where followers of Jesus are called to grow – to become disciples.
Worship
How does my love for Jesus show?
Listen
How am I living out God's Word today?
Pray
What am I talking to God about?
Restore
How am I facing the things that hold me down?
Connect
Who are my 2 a.m. friends?
Give
Where am I serving and giving?
Multiply
Who am I pouring into?
God is the Creator and Ruler of the universe. He has eternally existed in three persons: the Father, the Son, and the Holy Spirit. These three are co-equal and are one God.
Genesis 1:1, 26, 27; 3:22; Psalms 90:2; Matthew 28:19; 1 Peter 1:2; 2 Corinthians 13:14
Jesus Christ is the Son of God. He is co-equal with the Father. Jesus lived a sinless human life and offered Himself as the perfect sacrifice for the sins of all people by dying on a cross. He arose from the dead after three days to demonstrate His power over sin and death. He ascended to heaven's glory and will return again someday to earth to reign as King of kings and Lord of lords.
Matthew 1:22, 23; Isaiah 9:6; John 1:1-5; 14:10-30; Hebrew 4:14, 15; 1 Corinthians 15:3, 4; Romans 1:3, 4; Acts 1:9-11; 1 Timothy 6:14, 15; Titus 2:13
The Holy Spirit is co-equal with the Father and the Son of God. He is present in the world to make people aware of their need for Jesus Christ. He also lives in every Christian from the moment of salvation. He provides the Christian with power for living, understanding of spiritual truth, and guidance in doing what is right. He gives every believer a spiritual gift when they are saved. As Christians, we seek to live under His control daily.
2 Corinthians 3:17; John 16:7-13; 14:16, 17; Acts 1:8; 1 Corinthians 2:12; 3:16; Ephesians 1:13; Galatians 5:25; Ephesians 5:18
The Bible is God's Word to us. It was written by human authors, under the supernatural guidance of the Holy Spirit. It is the supreme source of truth for Christian beliefs and living. Because it is inspired by God, it is the truth without any mixture of error.
2 Timothy 3:16; 2 Peter 1:20, 21; 2 Timothy 1:13; Psalms 119:105, 160; 12:6; Proverbs 30:5
People are made in the spiritual image of God to be like Him in character. People are the supreme object of God's creation, but all of us are marred by our fallen nature, which produces attitudes and actions in disobedience toward God called "sin." Sin separates people from God.
Genesis 1:27; Psalms 8:3-6; Isaiah 53:6a; Romans 3:23; Isaiah 59:1, 2
Salvation is God's free gift to us but we must accept it. We can never make up for our sin by self-improvement or good works. Only by trusting in Jesus Christ as God's offer of forgiveness can we be saved from sin's penalty. When we turn from our self-ruled life and turn to Jesus in faith, we are saved. Eternal life begins the moment we receive Jesus Christ into our lives by faith.
Romans 6:23; Ephesians 2:8, 9; John 14:6; 1:12; Titus 3:5; Gal. 3:26; Romans 5:1
Because God gives us eternal life through Jesus Christ, the true believer is secure in that salvation for eternity. If you have been genuinely saved you cannot "lose" your salvation. Salvation is maintained by the grace and power of God, not by the self-effort of the Christian. It is the grace and keeping power of God that gives us this security.
John 10:29; 2 Timothy 1:12; Hebrews 7:25; 10:10, 14; 1 Peter 1:3-5
People were created to exist forever. We will either exist eternally separated from God by sin, or eternally with God through forgiveness and salvation. To be eternally separated from God is hell. To be eternally in unison with Him is eternal life (heaven). Heaven and hell are real places of eternal existence.
John 3:16; 1 John 2:25, 5:11-13; Romans 6:23; Revelation 20:15; Matthew 18:8, 25:44, 46
The local church is a body of believers organized for worship, work and fellowship. The two ordinances of the church are baptism (immersion) and the Lord's Supper. The local church is an independent and self-governing body responsible to Christ alone who is its Savior and Lord.
Romans 6:3, 4; Matthew 28:19; Matthew 26;26-28; 1 Corinthians 11:23-26